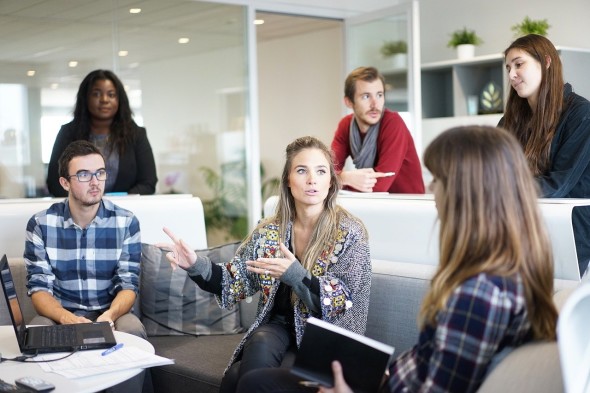 50 Tips to Speak English Better
1. Learn conversation fillers. Even the best speakers occasionally need a moment to collect their thoughts. In such situations, native speakers of English use conversational place holders such as:
• um…
• ah…
• well,…
• Let me think.
• so,…
• I guess…
• er…
• I suppose…
• You mean…
• I mean…
• basically,..
• like…
• You know…
• ok…
• literally…
• actually…
• right…
• I see
• hold on
• Let's see.
• To be honest
• As a matter of fact
• I was just thinking…
2. In order to be an effective speaker of English, you need to be an effective listener as well.
Not understanding what your interlocutor is saying, will be simultaneously hindering your progress in speaking. You can improve your listening skills, for example, by watching TV, movies in the original version, listening to the radio in English, listening to graded readers (nowadays the books are almost always sold with a CD), listening to podcasts and TED talks, as well as by using a variety of listening techniques such as listening for gist or listening for detail.
3. For 30 minutes a day try to think in English.
4. Be proud of your mistakes! Making mistakes is an indispensable and natural element of learning a foreign language.
5.  Record your own mini-speeches. Nowadays, you can simply use the voice recorder in your smartphone. Then, try to self-correct. Self-correction increases your level of awareness of the mistakes you make.
6. Find yourself a speaking partner. Meet with them on a regular basis in order to have a chit-chat in English.
7. Learn words and phrases in context, not in isolation. Don't learn individual words as it is not productive, you won't be able to use them in a conversation. Try to memorise an example of a sentence with a particular word.
8. As often as possible, try to learn whole phrases rather than individual words. In order to broaden your knowledge of active vocabulary, learn groups of words or meaningful lexical phrases, collocations.
9. Learn routines and small talk phrases. Make sure you are able to start a conversation, to end a conversation, to ask about more details, to show interest and to pay a compliment. Small talk is based on routines. Learn them, and a short conversation will not cause any inconvenience on your side. Examples of routines and small talk phrases:
How about you? • That sounds interesting/nice. • Hi. I haven't seen you around here before. • Nice to meet you. • Where are you from? • This food looks delicious. • How's it going? •What's up? • Thanks so much. • My pleasure.
10. Expose yourself to numerous conversational contexts. Use English in a variety of situations: in language lessons, via Skype, on the phone, and in a variety of places: in a pub, at a conference, on holiday. In that way, your brain will become more flexible and will not associate speaking English with only one set of surroundings.
More tips on learning English available in English Matters no. 57 at kiosk.colorfulmedia.pl     :)