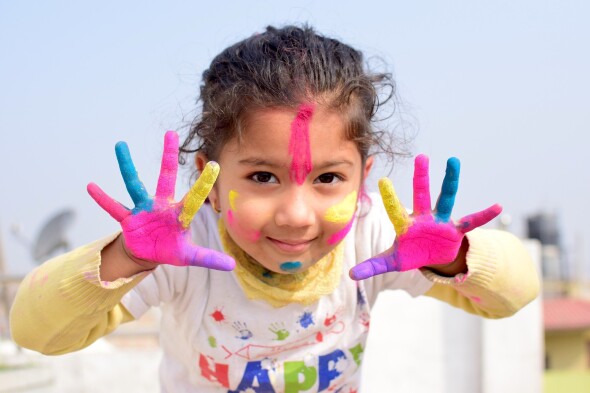 Practise English with Your Children
Can non-English parents significantly contribute to their children's knowledge of the language?* Does it require much preparation? Is it very difficult?
English Matters  answers those questions and serves up some readymade solutions, as well as describes a few tricks of the trade.
Although English is a foreign language, activities that you can use to practise English with your own child will not be totally different from those you use in your mother tongue. All children are taught to recite nursery rhymes or chants, and sing songs in their native language. So, why not make use of the abundant source of English rhymes and songs? Sing, read and recite with your child in English. Undoubtedly, it will be difficult for those parents who do not know the language at all. Nonetheless,if your level of English is good enough
to read English Matters, or even a little bit lower than that, you are definitely capable of introducing your child to the world of English nursery rhymes. You'll easily find all the texts on the Internet, and it will take you just a second to find an appropriate video on YouTube to additionally have an animated version of a song or nursery rhyme.
If you don't want to rely exclusively on internet sources, there are plenty of interesting materials available on the Polish market to teach kids songs and nursery rhymes. Go through the list of the materials presented in the green table, all of which have been tested and are recommended by English Matters.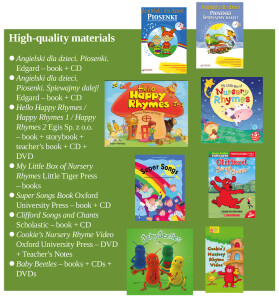 Finally, note that whenever you let your child watch cartoons, they can be watched in English. Peppa Pig is as attractive in English as in Polish, or any other language.
Reading, singing or reciting may be combined with a follow-up activity. That is, an additional activity which is connected with the topic of the song, nursery rhyme or jazz chant and, as its name suggests, comes after the main activity. It may be drawing, colouring, painting, using dot to dot pictures, or arts and crafts activities. In the case of the last category, possibilities are endless. You can make masks, animals out of a variety of materials, booklets, painted rocks, puppets, trinkets, utensils, calendars, jewellery and many, many more beautiful objects. During a follow-up activity it is advisable to use English to describe what you are doing at each moment e.g. Let's colourthe picture now.
Another interesting category is board or card games, memory games and puzzles. You can either create your own game with the use of templates and flashcards
available on the Internet, or equip yourself with ready-made materials, such as Maxi English ABC (Lisciani Giochi), DK Games e.g. Be a Maths Wizard, English Alphabet (Castorland Education). If you're more into computers than cardboard, you can always reach for: Bolek i Lolek. Język angielski dla dzieci, My First English Words or Disney's Magic English.
As you can see, even without a language teacher, you can have, to some extent, your kid's language progress under control.
You can have a positive impact on it, contribute to it and without too much effort do something useful for your own child. Make the DIY ideas happen. Use them in the everyday upbringing of your children.
Popular nursery rhymes in English
Baa, Baa Black Sheep          Incy, Wincy Spider       Hickory, Dickory Dock         Humpty, Dumpty         Twinkle, Twinkle, Little Star     Ten Little Indians
Popular songs in English
Old MacDonald               Five Little Ducks             Head and Shoulders            If You're Happy               Ten Green Bottles                  Wheels on the Bus
*Wróćmy do zadanego na początku pytania - Can non-English parents significantly contribute to their children's knowledge of the language? – Czy rodzice nie będący native speakerami języka angielskiego mogą w znaczący sposób przyczynić się do wiedzy ich dziecka na temat języka angielskiego?   
Tak, oczywiście. Co więcej można w ogóle nie znać języka angielskiego, a i tak ćwiczyć go – uczyć się go wspólnie z dzieckiem/dziećmi. Umożliwia to młodszy brat English Matters – ENGLISH MATTERS KIDS  – publikacja, która jest przygotowana tak, aby każda osoba – nawet całkowicie nie znająca języka angielskiego – mogła uczyć dziecko/dzieci tego języka.
Wszystkich zainteresowanych zapraszamy do zapoznania się z już dziewiątym wydaniem magazynu English Matters Kids. Magazyn można zakupić na kiosk. colorfulmedia.pl oraz w salonach Empik.